the jennifer scarf

Courtesy of www.pretendingsanity.com
© 2006 Allison Blevins, for non-commercial use only.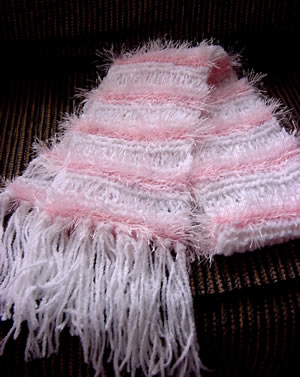 For the pink scarf, I used TLC Amore in white. And Lion Brand Fun Fur in Soft Pink.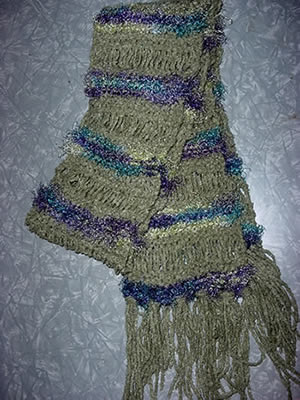 For the green scarf, I used TLC Amore in Celery and Pattons Cha Cha in Vegas.

Using size US 10.5 needles, cast on 21 stitches with the Cha Cha. Knit 4 rows. Switch to the Amore and knit 3 rows. Row 4, [k1, yo twice] repeat to end, k last stitch. Knit next row dropping yo's. Knit 2 more rows. Switch back to the Cha Cha and continue in previous pattern until scarf is desired length, ending with the Cha Cha. Bind off. Add fringe.