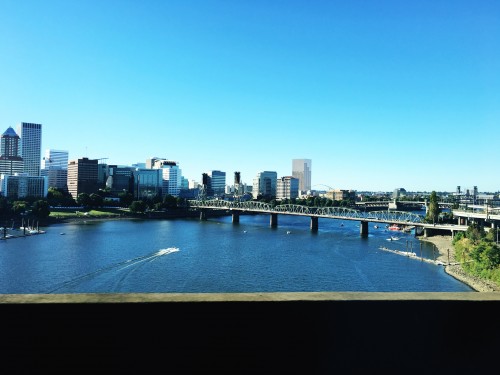 We've been exploring our way through Portland as only we know how, by tasting it. In the mornings we make our way in to downtown on the train, Starbucks in hand, waiting until we can trade our white and green cups in for something truly hipster. We wander to coffee shops where there are only three things on the menu and it makes me wonder if it's ok to ask for cream. It always is because people are so nice in Portland. So much more than in other big cities I've been to and even more so than in Western Colorado.
That's the part that we keep being so surprised about, sure, we are finding all the hipster things that you'd expect from Portland (except I've yet to see anything with a bird on it) but no one is snobby about it. It's just the way they happily choose to live their lives and it just seems so normal, it makes so much sense. And maybe they have something figured out because their kindness radiates in a way that's startling.
But back to the food. We ate our first meal in Portland at a place called Lardo. Think about the best pork sandwiches you can imagine. God, everything was perfect. French fries with chunks of bacon and deep fried pork, flash fried sage and rosemary, topped with spicy, pickled peppers. We left off the Parmesan but I'm sure had I been able to eat it, it would have been amazing. And that was just the fries.
Dinner was at a farm-to-fork Mexican restaurant called Verde Cosina and it was fresh and flavorful with each ingredient working exactly as it should with the next. Who knew all I ever wanted with my carne asada was kale? My cousin picked it as her top choice in all of Portland and she was not wrong.
Today we explored the food trucks. There are food truck pods all over the city. I know this because Josh has mapped out every single one. We went to the largest pod. A whole city block lined on all four sides with food trucks facing out. How does one even choose?
We finished today with dinner at a James Beard Award winner. Pok Pok lives up to its hype with the most amazing blends of Thai flavors. It was hot, sour, salty and sweet. I'm still not sure what my favorite was between the three dishes we shared but they were nothing short of perfect. It was definitely a meal that we will be talking about for awhile.
And then even though we were so full we couldn't even think of dessert, we managed to hit Salt and Straw when the line was barely there and it was seriously the best ice cream of my life. I had half a scoop each of bone marrow with smoked cherries and olive oil and they were so, so good.
Tomorrow we will eat our way through the northeast side of Portland and I'm sure it will be equally delicious. I can't wait.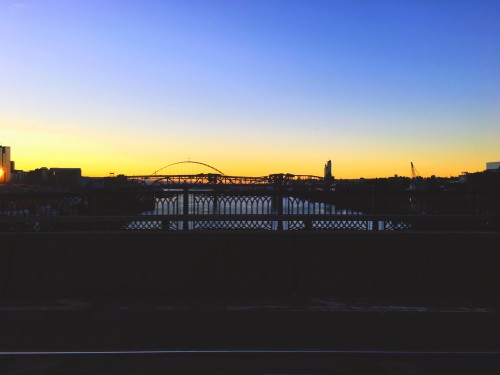 Category: travel Comments Off