Yum, this is probably my favorite breakfast right now. If you're lucky enough to live in West CO, you must track down some Chorizo from Roan Creek Ranch, it's truly amazing.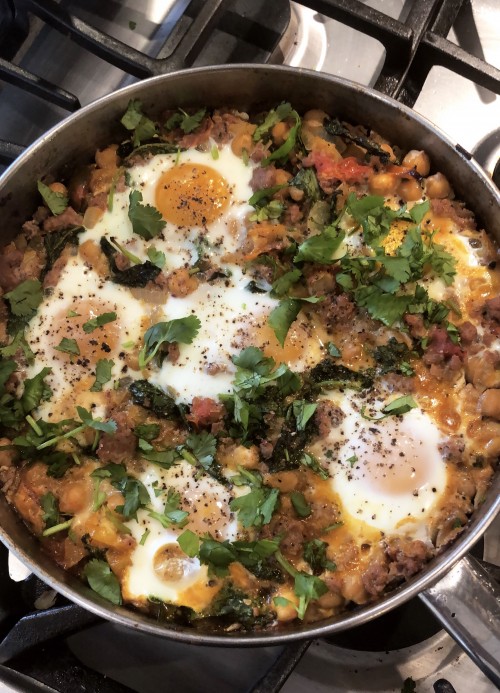 Adapted from Refinery 29.
1 lb. bulk Chorizo, Roan Creek Ranch if possible
1/2 tsp cumin
1 onion, chopped
2 Tbs. olive oil
1 pint cherry tomatoes, halved
1 can chickpeas, drained (or make them in your instant pot – 3/4 cup dried is about the equivalent of a can.)
2 cups baby kale, torn and packed
5-6 eggs
1/4 cup coarsely chopped cilantro
Preheat oven to 400º. In a large, heat-proof skillet, heat the olive oil over medium-high heat. Add in the onion, chorizo and cumin and cook until the chorizo is no longer pink. Stir in the tomatoes and cook until the tomatoes start to break down. Add in the chickpeas and 1/4 cup of water and cook until chickpeas soften slightly, 5-6 min. Stir in the baby kale and season with salt and pepper. With the back of a wooden spoon, make 5-6 divots in the chickpeas and gently crack an egg into each one. Season each egg with salt and pepper and carefully transfer the skillet to the oven. Bake for 15 minutes or until the eggs are set but still soft and creamy.
Top with chopped cilantro and enjoy!
Category: recipes Comments Off