This is my 14th annual year in review. To read past reviews, click here.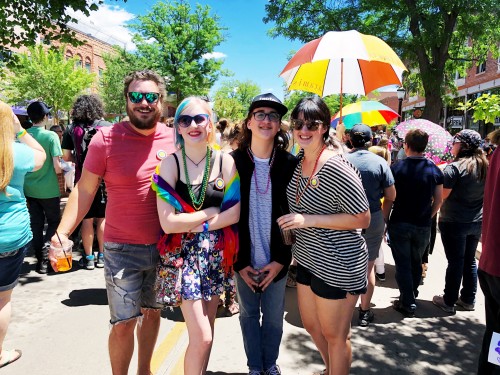 If I were to describe 2018 in a word, I think it would be delightful or maybe Proximity.
While this year has not been without its trials and challenges and many, many lessons learned, I leave it in utter delight. Which is a feeling I have not had for many years. It's like the lessons of these last five years have finally been brought to a point. Or one might say all those years I couldn't see the forest for the trees…those trees now make so much sense. Maybe that's because I am now thirty-seven and I finally have the benefit of a little wisdom. Here's also what I think may have happened: I think I might be incredibly blessed, incredibly lucky, and the benefactor of a very radical shift in perspective. For all of which I cannot be more grateful. 
There were hard lessons learned this year, for sure, like when I resigned from my Downtown job only to watch all of the hard work I had done for three years be undone, and for no reason other than of convenience with a good dose of manipulation on the side. I learned the very hard life lesson that what is right does not always win. And my once stalwart faith in local government began to match my (lack of) faith in national government. Corrupt people are, unfortunately, everywhere. It was a hard, and unexpected loss, that took me quite a while to work through. 
Though we certainly had our share of hard things this year, for me, there were fewer hard things than usual. Less loss, less heartache, less abandonment, less fear. And maybe all of those things were there, the bitter with the sweet, but the sweetness of this life shone through brighter. My gratitude for it continues to be unyielding.
We've experienced so much this year. Building a thriving tech company that Josh co-founded has been challenging, with so many important lessons, and it has been SO fun. We work with a team of 30 remarkable people and are doing work and living a life that I couldn't have imagined. I have been fortunate to have had many amazing jobs in my life, and getting to be the COO for Proximity is right there at the top of the list, a position I didn't imagine I would have when I started back in March and one that I now know I was made to do. 
The kids are exactly where you might think they'd be. Eden is driving and thinking about college. Honor is just starting out his high school career, figuring how who he is and who he wants to be. As a family, we experienced some amazing things and places this year, memories that are forever seared into my mind.
This life just continues to feel like such a remarkable gift and I am in awe that I've been entrusted with such a gift.
Travel
• We took Eden and a gaggle of girls up to the Mesa to stay in a cabin for her 16th birthday. It was snowing and magical.
• Josh and I didn't take our usual vacation with just the two of us this year, however, we spent several weekends in Denver, traveling over both for work and fun. We had the privilege of representing Proximity at the Governor's Mansion when we were nominated as a 2018 Colorado Company to Watch.
• We had great fun traveling with the Prox team to Denver for the Colorado Companies to Watch gala in May.
• Josh traveled to Florida and Portland and Durango for work, enjoying his time with the team. And marveling that the sun really does rise every day. (Inside joke!)
• Eden went to NYC with her choir and got to perform at Carnegie Hall. They toured the city, taking in all the important sites and several Broadway shows.
• I traveled to Portland with Brooke to explore the PNW and attend a mindfulness retreat hosted by my aunt and cousin at my cousin's flower farm. It was delightful.
• Not long after, Josh, the kids, and I traveled back to the PNW to explore Portland, Seattle, Bainbridge Island, and Vancouver, BC. I fell in love with island-life, marveling at the ferry, the Puget Sound, Gamble Bay and everything in between.
• We camped and rafted and took solace in our mountains and nearby towns when the heat, and smoke, in town became unbearable.
• Brooke and I traveled to Denver in November to see Rob Bell finish up the last leg of his Holy Shift tour. It was a poignant time for both of us and we had a great time.
Me
• A lot of what I did this year centered around work. I'm always happy when I have something huge to throw myself into. When I first talked to our CEO about coming to work for Proximity, my only caveat was that the position needed to be hard enough. I need a challenge. And it's been a challenge! I've had the opportunity to help shape the company. I've done the majority of the hiring, helping the team grow from about 12 to 30 since March. I'm proud that we've built an entire marketing brand from the ground up, helping this company – a leader in our industry – tell our story and convey our values: that people and connection and community matter most.
• Before I left Downtown, I got to launch a project that I'd been working on for years, free WiFi in DTGJ. And I got to see the Mayor present a check to our local United Way for over $14,000, a direct result of a parking project that I spearheaded.
• Celebrated my 37th birthday on our backyard, surrounded by people who love me.
• Had my fallopian tubes removed.
• Discovered that I'm allergic to wasp stings.
• Went to my first coffee cupping. And judged a latte art throwdown.
• Broke my damn toe, which turned out to be a much bigger deal than one would think!
• Cooked so, so many amazing meals. Creating is always so life-giving for me.
Josh
• Produced and hosted Grand Junction's first-ever TEDx.
• Turned 37.
• Started building his Design department at Prox.
• Worked on several house projects. Built many awesome things.
• Got a drum set and returned to his passion after a several-year hiatus.
• Designed the graphics, posters, and programs for Eden's holiday choir concert.
• Started to prioritize time for himself and took a little bit of time away.
Eden
• Turned 16
• Won first place at the Altrusa Art Fair.
• Finished 10th grade and started 11th.
• Performed her own music publicly for the first time, at an #enough rally with her fellow students.
• Got her driver's license.
• Had her first real relationship.
• Went to prom and homecoming.
• Sang and sang and sang. In 10th grade, she was in 2 choirs. In 11th grade, she's in 4. She also started recording her music (including a song she wrote for me!).
Honor
• Was student of the month.
• Was accepted into the IB Programme for high school.
• Attended his 8th grade semi-formal.
• Finished 8th grade and started 9th.
• Turned 15.
• Got his very own cello thanks to a generous friend. (Thanks, Charles!)
• Prepped our entire lavender field for spring. (for .$75/plant)
• Won a poetry contest that the library hosted.
We
• Marched in the Women's March (except for me because I was home sick.)
• Celebrated our 4th anniversary.
• Attended the pride festival.
• Hosted our annual Pumpkin carving party.
• Hosted 4th of July, the Prox Pool Party, all of our birthdays, Pie for Breakfast, Thanksgiving, THE Christmas Party, and Christmas at our house. Our hearts, and home, are always overflowing.
• Went most of the year without our pool. We were finally able to get the pool company to come out and replace our liner and enjoyed the last month of summer. Just in time for several pool parties.
• Had an exceptionally magical fall in western Colorado. The sky was more vibrant than usual and we had stunning weather, amazing colors, fog (!)… it was beautiful.
• Remodeled our laundry room.
• Witnessed as the kids participated in the nationwide school walkout after the Parkland shooting.
• The kids had their annual school's out All-nighter.
• Celebrated Brian and Bonnie's wedding on a rainy October evening and it was perfect.
• Got a hot tub! Something that connects us and allows us to unplug and be together. It's been so awesome.
• Enjoyed a fun and wintry visit from my cousin HaLee and her husband, Dave.
We move into 2019 more rested and more hopeful than we've been in past years. We'll take some downtime in the next couple of months and recharge for the wildness that will come in the spring and summer months. We'll settle in and do puzzles and play card games and lay by the fire reading books. And we'll also be working hard, excited for what's to come with Proximity – I have a feeling it's going to be something amazing. We don't have much time left with Eden living at home so we'll keep trying to squeeze in all of the things we want to do with the kids before she's gone, mentally checking off the list, hoping we'll get it all in. Our house will be full; we'll cook and prep and plan and clean and it will be exhausting and exhilarating and such great fun. And we'll travel, I'm not sure where yet, maybe to Alaska to visit my aunt and uncle and/or maybe somewhere else. I'm sure we'll be checking out some colleges. I'm sure we'll be up to the mountains and down to the ocean too. No matter what, we'll drink it all in, hearts and eyes wide open, grateful for the gift of this life and all the people that make up the pieces of it. We are so very lucky.
Our year in Instagram.

Our year in Instagram Stories.

Category: year in review Comments Off