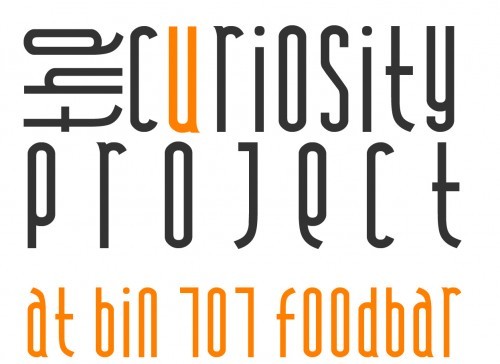 I created The Curiosity Project as a way to satiate my ever growing curiosity about the world around me. What is it like to change oil every day? How do restaurants really work? What would it be like to be a bartender? A barista? A maid? A gardener? A baker? I want to know and learn and do it all.
The first Curiosity Project adventure I had was in the kitchen of Bin 707 Foodbar. Anyone who knows me, knows how much I love this restaurant! I was lucky enough to design their 2014 menus and Bin is definitely where my husband and I will head for a date night. (Bin is where we gathered with our families for brunch the day after our wedding.) The food at Bin rivals any restaurant I've been to, anywhere, and their now retired, gluten-free fried chicken is on my list of all time favorite meals. After working in the kitchen for a day, I now know why the food is so good.
Bin 707 is located in the Alpine Bank building in Downtown Grand Junction (just a couple of blocks away from Tangle). Executive Chef, Josh Niernberg and his wife Jodi, opened Bin 707 Foodbar downtown in 2011. The 1800 square foot restaurant has a modern feel with maroon chunky stripes on one wall, funky framed posters, perfect lighting and a copper bar. Just about any time of the day the restaurant is bustling with people. Happy servers skim around the crowded bar to serve up fresh, modern food, like the famous Bin Burger with fries and Truffled Aioli or the Colorado Lamb Tenderloin with Apple and Fennel Puree.
I arrived at Bin on a Thursday morning at 10am. Most of the kitchen prep staff had been there for hours already, pre-frying french fries (they go through 300lbs of potatoes every single day!), slicing cheese, baking desserts, etc. Josh introduced me to Production Chef, Clint Schaefers, who I had the pleasure of working with. When I got there he was pulling the oatmeal cookie that goes into the Crack Pie out of the oven. (Best part of working in the kitchen at Bin? Taste testing!) While the oatmeal cookie cooled, we got to work making Cherry Bread Pudding.
The prep area of the restaurant is TEENY. It is sheer genius that can create such amazing food in such a small space. The pantry and walk-in fridge are in the basement of the building, so dozens of times per day, the staff treks up and down the stairs (or rides the elevator) to carry food up and down. I made at least half a dozen trips down to the cooler while I was there. And before we began our bread pudding, we had to go down to the cooler to gather ingredients. Before we headed down, a chef or two would ask Clint to grab certain things for them, or take certain things back down. (This is how it goes: bring food upstairs to prep, bring it back downstairs to store, bring it back up to serve. Just think, no gym membership required with all those stairs!)
After we got the bread pudding baking, we worked on the next step of crack pie. Wonder why crack pie is like… crack? Butter and sugar and more butter and sugar. SO good! While the crack pie baked for the second time, we checked on the bread pudding and started on some White Balsamic Dressing. Clint knows exactly how to get a perfect emulsion every time. (Thank you Alton Brown for teaching me what an emulsion is.) And we stored that perfectly tangy dressing in the cooler downstairs.
At that point Chef Griff Chiono, the Chef de Cusine, arrived for the day and I watched him meticulously mince the ingredients for the house-made lemongrass sausage, which is just one component of the cioppino (possibly my favorite thing on the menu…), while I leaned up against a wall eating some Berkshire Pork Tacos. (I think Clint could hear my stomach growling so he took pity on me and made me some tacos. Delicious!)
While Clint took a break, he assigned me the task of making the savory Mushroom Sage Bread Pudding. Even though I cook all of the time, I was so nervous! I carefully followed the recipe and, I'm sure, took twice as long as anyone else would, but I made it, all by myself.
Next, we got to make the house aioli. If you've had the house aioli, you know that it's so good you could basically drink it. I definitely order an extra side of aioli any time I have fries, it's SOOO good. Between the house aioli and the Truffled Aioli, Bin makes 35 GALLONS of aioli each week! I squeezed a million lemons with the fancy lemon squeezer while Clint got the ingredients ready. I love that every part of every recipe is made with the best, freshest and local, if possible, ingredients.
While we watched the aioli whip up in the giant mixer, Chef Griff was finishing the last step of his house-made head cheese. (It's really made from the head of a pig – I saw a snout.) Everything was carefully sliced and wrapped and tied. The attention to detail is AMAZING. Each chef thinks about every single bite you're going to take. And truth be told, I think that's why they are in this business. They love seeing people's faces when they take that perfect bite.
After the aioli was finished and stored in the cooler, it was time to make the dough for the flatbread and we started the rosemary infused agave simmering on the stove. At this point it was about 3pm and I was SO tired. Clint made a perfect dough in the giant mixer while some of the other kitchen staff started to show up for the evening shift. They were standing nearly shoulder to shoulder, working hard to prep for the dinner rush. The camaraderie in the kitchen was fun to watch. You can tell that everyone working there really respects each other.
As the kitchen got busier for the evening, I headed out, totally wiped! What a day! I've never worked in the food industry before so this was a super interesting experience for me. I was totally amazed at how much work goes into a single dish, let alone a whole menu. The attention to detail and the prep that goes into running this kitchen is astounding to me. One thing I know for sure, anytime we eat at Bin, we're getting a deal – I don't think they charge enough!
A few other things:
-The dishwasher arrived at 11am and never stopped washing dishes the whole time I was there.
-Josh was in and out of the kitchen the whole day. He manages the entire staff (63 people), creates all of the recipes, manages all of the ordering, payroll, training, marketing… the list goes on! Running a restaurant isn't just cooking great food, it's also having good business savvy, and I totally see Josh's genius at work at Bin.
-The challenge to Josh and the kitchen staff has been how to mass produce the recipes to feed all of the people they see each week. When the restaurant opened downtown in 2011, they were serving 700 people a week with Josh in the kitchen all day, every day. Now they're serving 3,500 people per week! Josh has really had to change the recipes and methods to allow for this influx of people and to ensure that everyone else in the kitchen can make the recipes exactly as he would. He told me that he really wishes he could still cook every meal that Bin serves.
-With the sheer amount of work that goes into working in this amazing restaurant, I wondered what brings these chefs to work everyday. Each one, when asked why they love their job, answered because they love feeding people and seeing their faces when they eat the food they worked hard to make. I love that!
-Here's exactly how the kitchen staff works:
Josh Nierenberg: Executive Chef (manages all the chefs and cooks, develops recipes, dishes and write menus, sources products and work with purveyors)
Griff Chiono: Chef de Cuisine (responsible for quality of the plates that leave the kitchen)
Ryan Sylvester: Kitchen Manager (responsible for development and efficiency)
Clint Schaefers: Production Chef (responsible for consistent prep to par levels)
Andrew Watson: Sous Chef (responsible for line cooks/consistency)
Danielle Hinrichs: Sous Chef (responsible for line cooks/consistency)
-By the end of this month, Bin 707 Foodbar will have served 100,000 Bin Burgers!
Bin 707 Foodbar is open everyday at 10am. If you haven't had a chance to eat there, I highly recommend it. Try the Bin Burger with a side of aioli and an Original to drink. Or, if it's lunch time, you MUST try the Cioppino. You probably want to order some Fried Artichokes to start or the Charcuterie and cheese (get the Venison Salami!). And don't forget to try some Crack Pie or Key Lime Pie for dessert – you'll be happy you did!
Special thanks to Clint Schaefers for being so patient with me and being a great teacher. And to owners, Josh and Jodi Niernberg, for letting me crash their kitchen for the day. And to my own Josh, Josh Hudnall, for photographing my adventure.
Category: the curiosity project One comment »