June 12th, 2015 — 1:24pm
I created The Curiosity Project as a way to satiate my ever growing curiosity about the world around me. What is it like to change oil every day? How do restaurants really work? What would it be like to be a bartender? A barista? A maid? A gardener? A baker? I want to know and learn and do it all.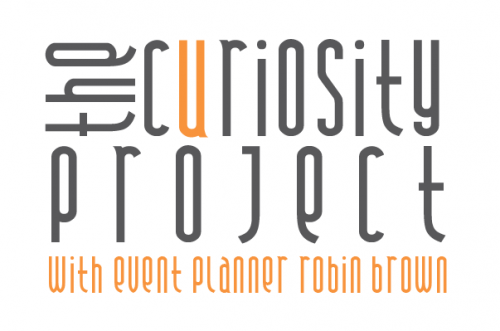 One of my favorite things about my new job is that I get to work with the incredible Ms. Robin Brown. Robin, a former military helicopter pilot (who was shot down in combat, by the way), coordinates Downtown's events and I do the Marketing and Communications. Our jobs go hand in hand and we're turning out to be a pretty great team! A few weekends ago I got a hands-on glimpse into Robin's job.
Downtown just hosted the best festival in it's history: the Art + Music Festival in conjunction with the Grand Junction Off-Road. For the first time these two events joined forces and culminated into a huge, super-fun street party. All 4 blocks of Main Street's primary shopping area were turned into a beer garden with the bike race course flowing in and out of the middle of it. There were 4 stages with music, a bike expo and an art show. And the weather was PERFECT: the first sunny and warm weekend that Grand Junction has had all spring.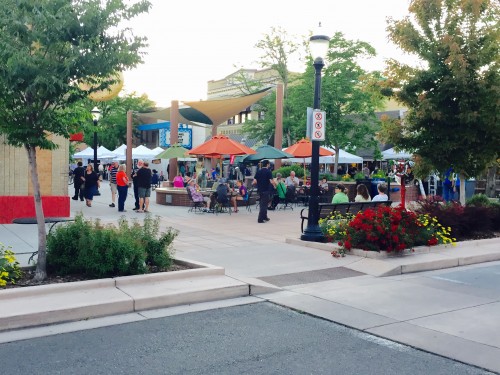 Robin's day started first thing on Friday morning. GJ Off-Road started setting up their course and bike expo at 5am. I got the pleasure of checking in all of the Art and Food vendors. It was controlled chaos. Large vehicles with big trailers crammed themselves onto Main Street and started unloading. Robin has an excellent staff: block captains who help the vendors find their spots and set up, her dad who is her right-hand man, her mother who helped me with check-in and had me cracking up all morning, and Chuck, the grumpy downtown fixture who helps with maintenance and, with a small team, manages signage, traffic cones and road closures.
Two-way radios were passed around to various staff and setup was underway. The music manager, Ron Wilson from Sandstone Concerts, lent us his hard-working teenage boys who rode around on gators delivering water and ice and pretty much anything else that anyone needed. The radios continuously squawked, "Robin!" and she would run all over the place putting out fires.
There are so many details that go into an event like this one. Security to manage the beer garden perimeter as well as safety for the event, making sure the vendors have everything they need like water and power, sound setup for the stages plus building the stages, keeping the beer tents stocked with beer, wine and ice, making sure everything works well with the merchants downtown… And this list doesn't even mention the months of prep it takes to pull off so many moving pieces.
By 1pm everything was ready for the weekend. Bands were sound-checking on the stages, the bike expo was underway, riders were registering, beer was pouring, artists were selling and food was being prepared. The atmosphere Downtown was electric. And that electricity continued throughout the weekend.
Our Main Street saw some amazing music from more than 20 bands, both local and national, including Big Sam's Funky Nation and Shakey Graves. On Friday night, the GJ Off-Road Criterium began with the "Klunker Crit" full of locals, young and old, lined up in costumes on decorated bikes. I took a break from working to sit with Josh at a Downtown restaurant's patio to watch the crit, which was SO fun. I can't believe how fast some of those professional riders whizzed by, on mountain bikes, nonetheless.
Throughout the weekend everything worked well, music started, staggered, on each of the 4 stages while different rides (15 to 40 miles on the "most technical course in the US") started and finished on Main Street. Robin and the staff manned the headquarters that was set up on the 500 block of Main, doling out information and water, watching booths as vendors took breaks, making sure the 3 beer tents stayed stocked with ice, beer and wine and that the schedule kept on rolling. I think between the three days, every one of us took a turn helping pour beer as the warm weather demanded cool drinks. I worked for several hours in front of the the 600 block stage pouring local Palisade Brewing Company beer while the line never seemed to grow shorter.
After the Shakey Graves concert on Saturday night, I ran into Robin who was getting everything closed out for the night. She was still in her sun hat and sporty tennis dress with her radio clipped to the strap of her cross-body bag. She was tired and ready to disperse the lingering crowd that hung around after the show. But she was also excited. The success of the event was exceedingly clear. She did an amazing job and her hard work showed!
Downtown Grand Junction hosted thousands of people over the Art + Music Festival 3 day weekend. Over and over I've heard from people that it was the best event that's ever happened Downtown and I completely agree with them. It was perfect. And really, I just can't wait for next year!
If you'd like to see Robin's event planning handiwork, visit Downtown Grand Junction's upcoming Farmer's Market, each Thursday evening through the Summer or visit her website, westslopeevents.com. I, for one, am excited to see what she pulls off next.
Comments Off | the curiosity project