April 15th, 2018 — 9:05am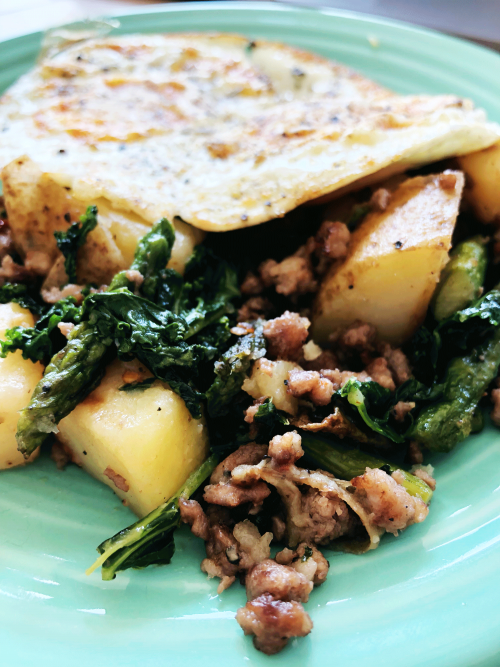 This was a delish meal that I threw together quickly from what was in the fridge. We always get the best meat in our farm box and this sausage was no exception! The leftovers might even be better the second day for breakfast, reheated in a skillet and served with a runny egg on top.
1 lb Spicy, ground German sausage
1 bunch asparagus, chopped into 1-2″ pieces
3 baked russet potatoes, cubed (if you don't have baked potatoes on hand, see below for alternate cooking instructions.)
4 cups of kale, torn into bite sized pieces
1/4 c red wine
1/2 c chicken stock
olive oil
salt and pepper
In a medium sized skillet, brown the sausage. At the same time, in a large skillet or wok, heat a couple Tbs of olive oil and sauté the potatoes and asparagus until the asparagus is tender and the potatoes start to crisp slightly. Season with salt and pepper.
Add the red wine and chicken stock to the browned sausage and let it cook down slightly. Add the kale to the potato mixture and cook until it's tender and slightly wilted. Once the wine/stock mixture has thickened slightly, add to the potato mixture and stir to coat. Season with salt and pepper to taste and serve with spicy brown mustard.
*To cook potatoes quickly, chop the potatoes into 1 inch chunks, place in a microwave-proof bowl, cover with water. Top the bowl with a lid or plate and microwave until the potatoes are tender, about 8-10 minutes depending on your microwave.
Comments Off | recipes